How an inspiring Khoja Family cemented their place in Kenyan History
Our Khoja heritage is one of great success and The World Federation is proud to celebrate achievements from people, young or old, within our community. Recently, an entire Khoja family were recognised for their incredible accomplishment, and this is their story.  
There are many tales of sporting greats who have risen from humble beginnings to legendary status, but rarely does a single family forge a legacy so impressive that it spans across three generations, creates three sporting icons, but carries only one unmistakable name.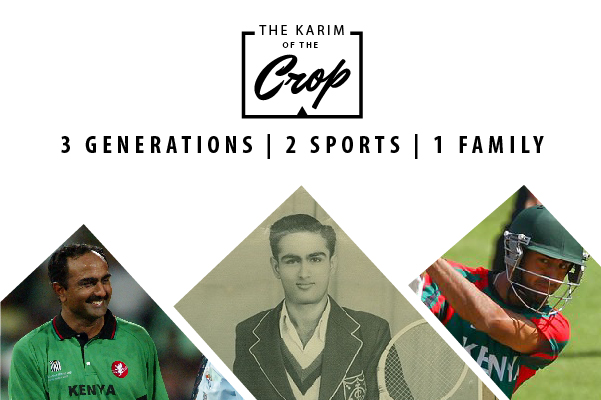 The story of the Karims' – who rose from a close-knit Khoja community to create their own sporting dynasty – is beyond compare.
When Yusuf Karim was born in 1935, his family and community could never have imagined the sporting legacy that was about to unfold and that would be associated with the family name for years to come.
The Karim family originated from a small region in Western India, in the state of Gujarat called Kutch. Yusuf family migrated to Mombasa, Kenya in 1937 and grew up in the coastal city of Mombasa, Africa.
It was important for the Karim family to connect with other members of their Ithna Asheri community, and as Mombasa slowly gained more importance as a premier trade and commercial hub, more Ithna Asheris gravitated to the city. The strong sense of community and belonging helped strengthen the family's Islamic faith, which played a huge and important role in building the personalities of Yusuf and his son, Aasif.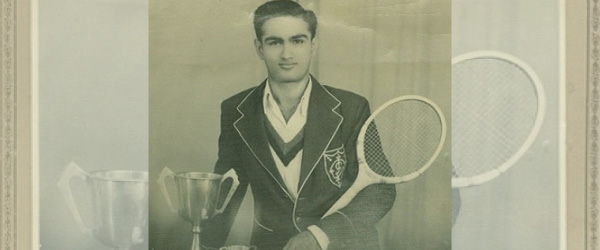 Above: 25 years unbeaten tennis champ in Mombasa, Kenya. Yusuf Karim
Yusuf quickly developed a passion for sports especially in cricket, Tennis and Volleyball. After completing his studies, Yusuf began trading in sports equipment, with the help of his family. A short-but-prolific cricketing journey followed before Yusuf turned his attention to tennis. An astonishing 25 Mombasa Tennis Open titles followed 1951 to 1977; the last of which Yusuf sealed with a victory against his eldest son, Aarif, in the finals. The sport was well in truly in the Karims' blood.
Aasif Karim.
Much like his father, Aasif too flourished in both tennis and cricket. Still, to this day, Aasif is the only Kenyan to Captain his country professionally in both forms of sports – at the Tennis Davis Cup and the Cricket World Cup. As a young man, Aasif dominated the local tennis circuit and won several competitions as a junior. Later on dominated tennis in Mombasa for over a decade. He represented Kenya in Davis Cup an played at Presidents Cup in Nigeria.  He also had a  tennis  Scholarship in  U.S.A. from  1981 to graduating from Howard University in Business and Insurance. With time, he switched his attention more to cricket. He had made his international debut for the Kenyan national side at the age of 17 on the 1980 tour of Zimbabwe and, with his first-ever international delivery, impressively claimed the wicket of skipper Duncan Fletcher.
---
"When the Kenyan sporting folklore is told, Aasif Karim will certainly occupy a special place due to his multi-talented accomplishment. Karim is an accomplished businessman publisher of one of the longest surviving sports publications, which is a testament to his focus and ambition. A straight-shooting personality, sometimes a bit of a hardliner, if stubborn, rarely he would change course once he has made up his mind on a matter." - Isaack Omulo Okoth, Sports Editor. 
---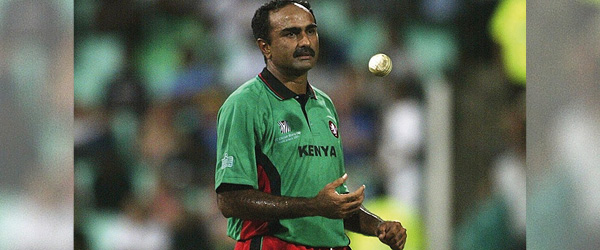 Aasif went on to feature regularly for the Kenya national side throughout the next 20 years before retiring after captaining in the 1999 World Cup in England. Little did Aasif know that his greatest sporting moment was yet to come.
Three years on, during his evening prayers on the 16th of December 2002, Aasif received a phone call from Kenya's chairman of selectors for International Cricket to come out of retirement. Having been convinced to join the team at the age of 39, he was on his way to perform on cricket's biggest stage for the third time. Fresh out of retirement, Aasif still managed to catch the eye of the cricketing world with a staggering performance against eventual champions, Australia. Although Kenya eventually lost the match by five wickets – no mean feat against an Australia side that featured the likes of Glenn McGrath, Brett Lee and Ricky Ponting – Aasif finished with near-unbelievable bowling figures that earned him the 'man of the match' award and cemented his place in the history books of world cricket.
One of the best spells of bowling in World Cup Cricket.
The left-arm spinner bowled 50 containing deliveries, giving away just 7 runs and taking three crucial wickets – including that of Australian cricket legend Ricky Ponting. Four years after captaining Kenya at the previous tournament, Aasif's performances helped his country to defy the odds and reach the semi-final stages with a never to be seen again bowling spell of 8.2 overs, 6 maidens, 7 runs and 3 wickets.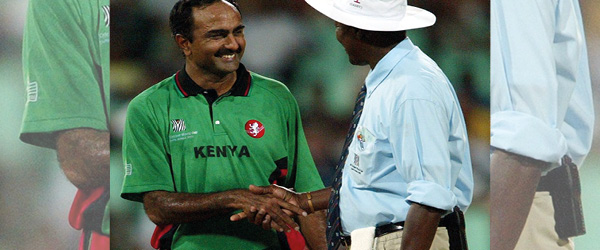 Nowadays, Aasif is a Businessman in various fields - Insurance Broker, Properties & publishing. In spirit of continuous learning, Aasif recently became a fellow Arbitrator and an accredited International Mediator. Aasif has also served as Nairobi Jamaat Chairman for 2 terms from 2009 to 2013 and in 2014, Aasif and his wife, Nazneen created the Safinaz Foundation in honour of their parents. The focus of the foundation is to promote sport in Kenya by hosting sporting events and providing equipment – and even scholarships where possible – to potential future stars. The Foundation also supports education and social needs.
Irfan Karim
Although his sporting career may long-since be over, Aasif's legacy will live on, not only through his own achievements but through those of his son, Irfan, who has quickly established himself as a permanent member of the Kenya national cricket side.
The Grandson of Yusuf, Irfan (25) has now graduated from University of Loughborough and continues to show signs of promise in the early stages of his career. During his varsity days,  Irfan represented Loughborough in cricket, where in 2015, Loughborough went on to win the 20/20 tournament and Irfan went on to represent England in the University World Cup played in Dehradun in India. England lost to South Africa in the finals. Irfan was declared Best Batsman of this tournament. Currently Irfan is also playing first class cricket in England. Aasif has already hinted about a future contract in the Indian Premier League, but regardless, Kenyan eyes will be watching closely as the next chapters of the Karim story unfold.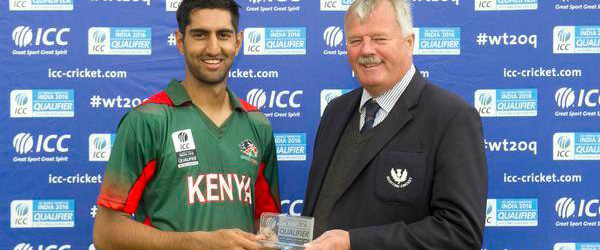 Above: Youngest Kenyan to score an ODI century. Irfan Karim
Between Yusuf, his sons and grandson -  the Karim family have, and still are, dominating Kenyan Tennis and Cricket, leaving a legacy that will be spoken of in Kenyan sporting folklore for the rest of time.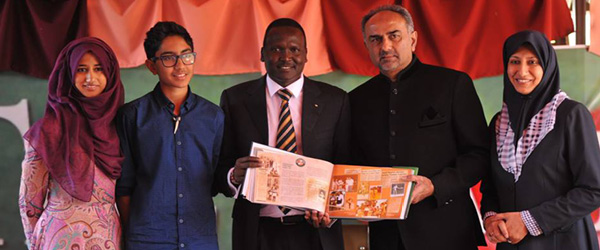 Above: Fatema, Imran, Paul Tergat, Aasif Karim and Nazneen at the Kenya launch of "The Karims - A Sporting Dynasty" - Chief Guest was Paul Tergat, Chairman of Kenya National Olympic Committee.
Yusuf married Nargis in 1960, Daughter of Late Mohamed Abdalla Khimji & Khairun Khimji of Dar-es-Salaam and  Aasif married Nazneen in 1987, daughter of the Late Sherali and Late Kulsum Kassam of Uganda and  UK.
Both ladies played a very important role towards the progress of their husbands and their children.