Elders of the Shia Ithna Asheri Muslim Communities around the globe have made significant contributions throughout their lives to the betterment of their communities. During the 14th Ordinary Conference on Saturday 17th May 2014 , The World Federation presented six lifetime achievement awards.  The male individuals were honored with the traditional Gujarati turban "Paghadi" and the female individual with a "Pachedi" for their selfless services.
On Monday 21 July 2014, during the wiladat programme of Imam Hasan (as) at the Husaini Islamic Centre in Stanmore, Nazir bhai Jessa was honored with a Golden Paghadi for his tireless efforts working in the community.  Shabbar Dhalla, Vice President of The World Federation had the opportunity to say a few words about Nazir bhai. 
Nazir Bhai Jessa was born in Tanzania and he worked in the family business in Tanzania and Uganda before coming to the UK in 1964. He then spent two years at Tripoli Central Hospital in Libya and returned to the UK in 1970 to work as an optician in Watford.  During this time he founded Watford Electronics, of which he was Chairman until his retirement in 2002.
Nazir bhai has spent much of his time working in the community and, in particular, the business community, something he continues to do in his retirement. In 1994 he was Founding Chair of Hertfordshire Ethnic Minority Business Network and a year later, a founding Director of Bedfordshire Business Link. In 2003 he founded and still chairs Luton Minority Business Forum.  Among the many varied activities he has been involved with is a project set up in 2005 to collect and refurbish computers to donate to schools in Tanzania – over 800 PCs have been provided to date. He has also held a variety of positions on local commercial, educational and charitable committees.
Nazir bhai was installed as the new High Sheriff of Bedfordshire at a special ceremony in 2008 at the University of Bedfordshire.
Since settling in the UK, Nazir Bhai and his family have been active members of the Jamaat and he was instrumental in getting the use of Watford Kabrastan for the Jamaat. In addition, he was one of the founding father who prepared this Jamaat's first constitution with others and has also served as the first treasurer of The World Federation.
The President of Hujjat Jamaat Sheikh Mustafa Jaffer presented the award to Nazir bhai for his illustrious and distinguished efforts to the community.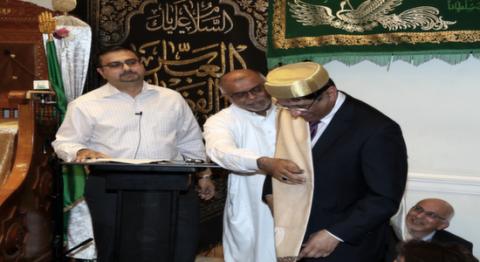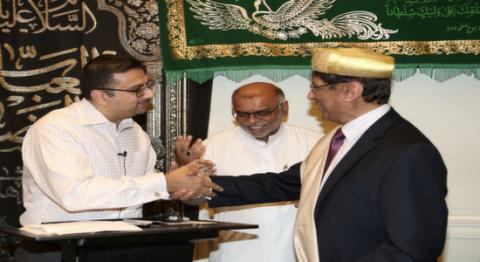 From left to right – Shabbar Dhalla Vice President of The World Federation, Sheikh Mustafa Jaffer, President of Hujjat (Stanmore) Jamaat and Nazir Jessa
Nazir bhai thanked The World Federation and the community for bestowing him the honour.  He also mentioned that the community has several unsung heroes and volunteers who provide exemplary service for the community and therefore was accepting the award on the behalf of all of these individuals.
On behalf of all the Office Bearers at The World Federation, we would like to once again congratulate Nazir bhai.