On Friday 16th May and Saturday 17th May 2014, the Assistant Secretary Generals of the five departments of The World Federation presented their reports at the 14th Triennial Conference in Dar es Salaam, Tanzania.
Each presentation discussed the achievements of the term, the challenges faced as well as the recommendations for the next term. 
EDUCATION
Assistant Secretary General for Education, Mahmood Dhalla delivered the presentation on the achievements made by his department over the past three years. He explained that there are many independent community schools around the world and these institutions should all provide excellence in education. To this end, Education has organised a global schools' forum on 17 May 2014 during Conference 2014.
Various student loan programs and scholarships were offered this past term. Mahmood explained that the Education Department has achieved the following:
Quality Assessments of East African schools

Disbursed loans of GBP 2,109,756.52 from 1981-2013, to 242 students

Recovered loan repayments from 2011 to 2013 of GBP 199,995

The Hiridjee Family Loan For Female Students runs on an annual basis

Awarded the Galana Trust Fund to a student from Dubai who is studying in California; the Fund is a scholarship of 5 years

The Walji Alibhai Pradhan Loan was awarded to a male and a female student

The Ibrahim Jaffer Ibrahim Loan Scheme was awarded to two female students

The Australian Loan Scheme was launched in 2010, and was awarded to two male students

Publication of a booklet on 'Alternatives to Our Current Higher Education Centres' which provides students with different options for study despite the increase in tuition fees across the world

Teacher's Training program at Jaffery Academy of Mombasa was conducted by Brother Arif Hasham

A CV Review Service was provided to young professionals by Brother Hussain Premjee of UK, and Brother Tanveer Devji of India. 134 CVs were reviewed from January 2011 to December 2013

Fill My Cup Appeal: 887 needy students in Kenya received a hot porridge breakfast every morning in 2012 and 2013.
ISLAMIC EDUCATION
Assistant Secretary General for Islamic Education, Sayyid Aliraza Naqvi delivered the presentation on the achievements made by his department over the past three years. Sayyid Aliraza noted that "Islamic Education is about hearts finding peace and human beings being valued." He narrated a number of success stories to show the progress of the various initiatives carried out by Islamic Education. Some of these initiatives include:
India Office - established the India office in 2011; has been well received locally by the Ulama

India Youth Camps – youth camps are engaging the youth in India and changing their lives for the better

India Couples Workshops – these workshops are helping couples to understand each other better and are saving marriages from breaking

Pakistan Islamic Centres and Aalim Project – The floods of 2010 provided an opening to spread the religion of the Ahlul Bayt (as) in Pakistan. Islamic Education partnered with International Relief and Development to address the religious needs of the region by building 105 Islamic Centres and placing 47 religious guides in these Centres.

Madinah al-Bab Course – this annual 3-week course attracts youth males and females from around the world and has changed the lives of many participants for the better.

Kenya Tabligh Seminars

Tabligh opportunities in Kosovo, Poland, Bosnia and Albania

Madrasah Centre of Excellence (MCE) – has achieved several milestones; change in the global Madrasah system is on its way and the impact of the MCE is being felt worldwide. Initiatives such as teacher development program and the development of a child-centred curriculum are examples of the current work of the MCE.
GLOBAL KSI YOUTH CONGRESS:  CONCEPT PAPER
The World Federation's lifeblood has always been its team of volunteers throughout the world. However, for a number of reasons, volunteers, especially from the younger generations, are gradually decreasing. This leaves the organisation in a difficult position with insufficient human resources to carry out its activities.
Shaykh Abbas Ismail presented a concept paper to address this issue of a disconnect between the youth and their attendance at Islamic centres around the world.
He noted that just because youth do not attend our Islamic centres, does not mean that they are not religious. Rather, youth are discouraged from community politics, protocols and procedures and there are many other outlets for them to receive spiritual guidance to nurture their faith.
Shaykh Abbas developed the Global KSI Youth Congress Concept Paper which is a worldwide strategy under the umbrella of The World Federation for youth to discuss challenges, devise solutions, create volunteer opportunities and carry out solutions. The concept paper outlines objectives, outcomes and benefits of this strategy. This initiative requires the youth to come together to establish the structure and formation of the Congress.
HEALTH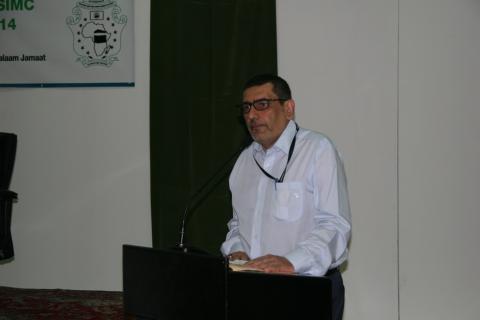 Assistant Secretary General for Health, Dr. Munir Datoo delivered the presentation on the achievements made by his department over the past three years. He commented that the Health team achieved more of its goals that they originally set at the start of the term.
Dr Munir went on to say that The World Federation provides specific healthcare projects for individual donors to sponsor. Some of these projects include:
Zainabiya Breast Cancer Screening Centre - one in three people will develop cancer in their lifetime. In 2012, thanks to the support of a donor, the Zainabiya Breast Cancer Screening Centre opened in Mianwali, Pakistan to screen women for breast cancer. An alarming 50% of the women screened were diagnosed with cancer. Dr Munir explained that the Health team now need to work with its partners to open a treatment centre for the women.

Mobile Medical Clinic – The project took three years to plan and launch.  Dr Munir explained that this has been successful ever since.  He went on to say that Bilal Muslim Mission of Kenya and the Jaffery Medical Centre are running this clinic and plans are under way to start a second mobile clinic.
INTERNATIONAL RELIEF AND DEVELOPMENT
Assistant Secretary General for International Relief and Development (IRED), Anisa Kanji delivered the presentation on the achievements made by her department over the past three years. Anisa went on to say that IRED has accomplished a number of projects ranging from building a number of water wells, to providing aid to Syrian refugees. In addition to managing relief projects around the world, the IRED team has been successful in raising funds in both the traditional and non-traditional ways including live telethons, text donations and challenge events (for example, the N2K Walk).
Anisa commented that whilst IRED has achieved much this past term, there are areas for improvement and three of these are (1) refining the level of reporting, (2) taking a more proactive approach in the way we work, and (3) creating volunteer opportunities.
Anisa ended by launching the Ramadhan Relief Fund 1435 to community leaders to help raise funds for this coming month of Ramadhan. She stated that three flash movies promoting Ramadhan Relief will be shared with all of the Regions and Jamaats to show in their communities.
ZAINABIYA CHILD SPONSORSHIP SCHEME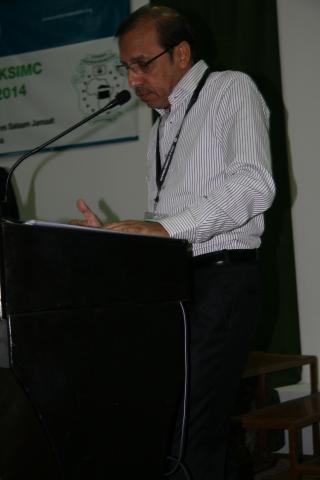 Assistant Secretary General for Zainabiya Child Sponsorship Scheme (ZCSS), Masum Somji delivered the presentation on the achievements made by his department over the past three years. Masum went on to say that ZCSS has focussed much of its efforts on restructuring its processes to work more effectively and efficiently. Overall, the process is very slow, but very positive.
He also explained that in the next 3 years, 80% to 100% of what is required can be achieved. Whilst the emphasis going forward will be to promote higher education, the current goal for ZCSS is to make its primary schools self-sufficient.
There are 5,000 students at the primary level under ZCSS. In January 2014 ZCSS organised a conference in Mumbai to understand and provide solutions to the challenges that the schools face.
Masum ended by explaining that a team was being formed to improve ZCSS schools by holding teacher training and vocational training programs, career counselling and a number of other initiatives.
For more information, please email [email protected]