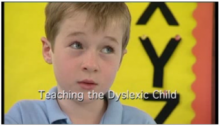 Teaching the Dyslexic Child
This programme reveals how the use of multi-sensory teaching can help dyslexic children become independent learners and boost their self esteem. 
It is crucial that children with dyslexia are encouraged to believe in themselves and to become independent learners from an early age. Kate Bodle, a specialist in teaching dyslexic children, works at Ewelme Church of England School in Oxfordshire. She uses a multi-sensory approach. Kate explains and demonstrates the approach in this programme. The importance of teaching continuous cursive handwriting and the need to "overlearn" is also covered.