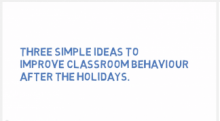 Three simple ideas to improve classroom behaviour when teaching a new class
They say that you never get a second chance to make a first impression. That's why it's important when your new class walks through the door on the first day of term that you project the image of a teacher who is calm, positive and assertive. Whether you get it right or wrong, you'll feel the impact of your actions for the rest of the year.
So how do you get it right? Here are three simple ideas to help set the right tone in the new term.