Conflict and drought from Africa to Yemen have put 20 million people at risk of starvation. The current Famine has been declared as the 'largest humanitarian crisis since the United Nations was founded in 1945' - the biggest humanitarian crisis since the end of World War Two. WF-AID have stepped in to provide crucial emergency relief to those in need. We are working with our local partners to provide urgent food and water supplies to the affected regions.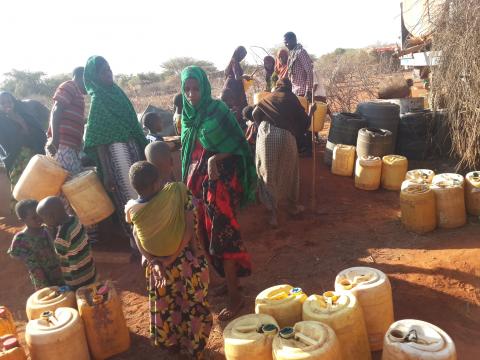 Yemen
In Yemen alone 3.3 million people, of which 2.1 million are children, are severely malnourished. Yemen is the poorest country in the Middle East, torn apart by conflict and more than 18 million people are in urgent need of life saving assistance.
East Africa
Half of East Africa is starving.  Lack of water has wiped out crops and killed livestock. In parts of the region, where records are available, this is the worst drought in sixty years.
The situation for children is extremely serious; Over 1.4 million children are at imminent risk of death from severe malnutrition.
Myanmar
370,000 Rohingya Muslims have been displaced. International media and human rights organisations have dubbed the Rohingya people as one of the most persecuted ethnic groups in the world. Far from home and just trying to keep alive, most are now dependent on aid for all their basic needs – food, water, shelter and medical care.
Stephen O'Brien told the UN Security Council on Friday 17th March that "without collective and coordinated global efforts, people will simply starve to death" and "many more will suffer and die from disease".
WF-AID is launching an appeal to raise funds and awareness for this crisis. WF-AID is already distributing food, water and sanitation packs right now across the region, especially with those living in camps for displaced persons, with focus in Kenya and the border of Somalia where the crisis is worst. Our target is to extend aid in other affected countries in order to save lives.  WF-AID has already commissioned 54 wells across Kenya and the border of Somalia and these are already under construction. Efforts are being made to expedite the completion of these wells to help alleviate some of the famine challenges faced by millions of families in the region.
With our local partners on the ground, we are already distributing food and water to remote villages that are badly affected. Distribution in towns such as Garissa, Wajir and Kilifi have been completed. The distribution aid team is currently in Tana, witnessing devastating first-hand encounters of young mothers scooping water from a roadside leak left by our envoy. Children and women are seen on the roadside begging for food and water handouts from commuters. Schools are recording poor attendance, as children travel far with their families in search for these precious commodities. As we continue to distribute food, water and emergency packs to those in the drought region, there is a huge demand for aid to cover the vast areas of drought across South Sudan and Nigeria which need to be covered by our teams.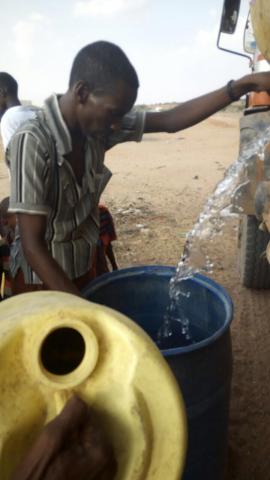 "It is key for all of us to act today, as the effects of this famine are most likely to cause seriously damage to the minds and bodies of whole a generation of children." - Shan Hassam – WF-AID Head
Extremely malnourished children experience stunting of growth and may even grow up with physical deformities. Their brains cannot develop normally, and they are often too weak with hunger to attend school or play with their friends. If untreated, acute malnutrition is fatal.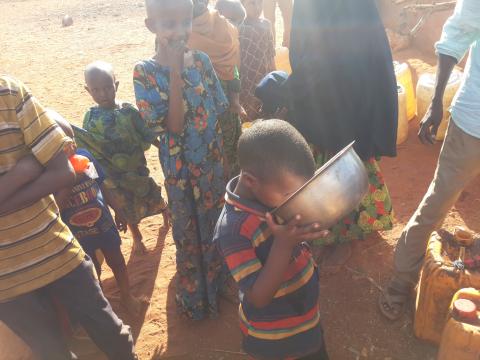 The story of a 'drought widow'
One of the saddest things about the current drought in the Horn of Africa is that it's destroying families. Men go off with livestock to find water - often traveling hundreds of miles for months at a time or they flow into towns to look for odd jobs. Either way, women and children are often left behind.
This is the real life story of one of those women, Zeynab Hassan, a drought widow in the town of Hadado in Wajir County, Kenya.  Zeynab is a middle-aged mother of five children. Her husband has left and is wandering with their remaining animals to search for water and food.
He left in search of food and water one month ago and she has no way of knowing when he will return. Zeynab is scraping by as she awaits his return by selling firewood. She walks 20 miles a day to gather wood, which is a tough and potentially dangerous journey. She sells the bundles of wood for a few shillings in town and uses the money to buy sugar and ugali - a favourite East African starch - for her children. It's a job that doesn't provide much. Three long sticks of firewood sell for five Kenyan shillings; a kilogram of sugar costs 120 shillings.
Finding safe water is even more difficult. Zeynab's family has been getting water from a local borehole, at a cost of five shillings for 20 litres. The water is salty and contaminated, so her children have been suffering with diarrhea. A private vendor is trucking in and selling fresh water, but at 50 shillings for 20 litres, is out of her price range.
Before the drought, Zeynab and her family used to be quite well off and owned many cattle, goats and camels. When asked by reporters how many animals they possessed, Zeynab said "I don't want to talk about the number of animals we had and lost. It makes me too sad".
Unfortunately, Zeynab's story is all too common. Just walk into any village. You will find those women everywhere. (Source: CNN)
A human catastrophe is unfolding. We need your help to prevent these children, women and men from dying. The situation is desperate. Please give what you can today.
For £100 you can provide emergency food and water to one family in East Africa, which will last a whole month. This donation can mean the difference between life and death. We have no choice but to act now.
For £300 you can provide a 20,000 litre of water bowser which will provide water for 1000 people.
This is a way of instilling hope and dignity, by providing sustainable and quality water as a basic need.
The appeal will be for the following countries: Yemen, Africa (Kenya/Somalia/South Sudan) as well as for the Rohingya Community in Myanmar.